I hope you listen to the podcast show about being the leader that people want to follow. When you fall into leadership, get appointed, volunteer or get railroaded, all of a sudden eyes are on you. And the more people you lead, the more eyes there are that are on you!! Sometimes…OK often, that can be intimidating. Leadership is NOT a popularity contest, sometimes we have to make hard decisions. But there are things we can do to help make our leadership much more effective.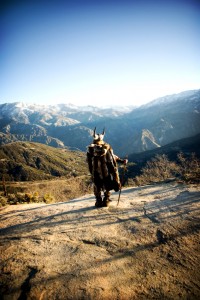 Remember playing "king of the mountain" when you were kids? It was raw power that got you on the top…. not great leadership skills. Would you follow this guy =>
I doubt that you would follow this guy. Looks like he is on a power trip! These are not one secret to great leadership, or the KEY, because leadership is complicated. It is a crazy mix of who you are, who the people are that you work with, and then the culture of the company and the context of the situation. In fact, if you are in a dying industry or a situation plagued with failure, then you have HUGE challenges turning it around no matter who you are.
If you think you are leading, but no one is following, you are only taking a walk
Taking a walk like I did in this village in Mali, West Africa. It was a beautiful hot day and we were surveying some good ministry taking place in this village. But why is this flock of kids following me? Big-shot leader from America? I don't think so! Pure curiosity. A novelty. Perhaps I have some candy! Nothing better to do that day.
The six important traits that people really appreciate in their leader.
Reluctance

Focus on People

Vision

Good delegation

A balanced life

Servant leadership
I unpack each of these carefully in this week's podcast. Here is a great quote on spending quality time with people and getting away from the noise of social media every second: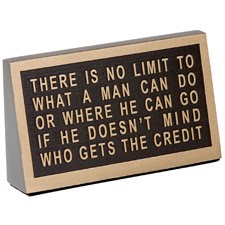 A capacity for solitude is what nurtures great relationships. But in today's always-on social media world, our solitude has been replaced by incessant online updates, which both weaken our sense of self and our ability to create genuine friendships. – Sherry Turkle, Professor of the Social Studies of Science and Technology MIT Some people accused Ronald Reagan of being a lazy president. But I don't agree. He was humble and he knew his place. Here is the sign that was always on his desk at the While House:
Actionable item: Taking My Leadership Temperature
How well am I doing? The temptation is to ask? how bad is my boss? Don't take this on your boss, or the leader of your group, take it on yourself! Make a list of these six traits Rank your success for each of the six – score 5 for great and 1 for terrible Add up your score
30 would be a perfect score
Over 20 – you're OK
10-20 – you need some help
Under 10 – you need some leadership therapy!
What one idea did you hear today that you could put into practice this week?
Please write a comment in the box below and let me know how you did.
Leadership quote of the show: Sign on the desk of Ronald Regan. ?There is no limit to what a man can do or where he can go if he doesn?t mind who gets the credit.? Ronald Reagan
Leadership book recommendation of the show: In this book Collins talks about "Level Five" leaders that run great companies. Amazing how many of those traits match up with my six. Jim Collins – "Good to Great", Harper Collins
I Appreciate Your iTunes Reviews!
If you know how iTunes works, then you know just how valuable leaving a 5 star rating and/or a written review can be to a content producer. I am so incredibly thankful to those who go into my listing in iTunes and provide a five star rating and a written review of Leadership Answer Man. If you liked the podcast and notes – I would be grateful if you give me a great review in iTunes.
Just click here:? Subscribe to Leadership Answer Man podcast