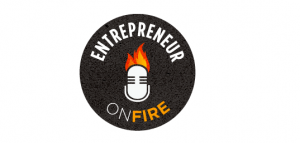 Even though?there is no Leadership Answer Man podcast this week, I do have a very special piece of content for you. Today I have the honor of being the featured guest on the Entrepreneurs on Fire podcast with John Lee Dumas. Entrepreneurs on Fire is a daily podcast, encouraging entrepreneurs and would-be entrepreneurs to move forward with their dreams of being in business.
Success takes more than just "perspiration," it takes inspiration. By studying the successes and failures of others we can learn about their mistakes before we make them, hear about the great things they have accomplished for themselves and for others to inspire us, and reinforce the idea that if they can do it, we can do it.
Entrepreneurs On Fire was awarded Best Of iTunes in 2013 because of our dedication to serve its listeners and share incredible insights to help guide their Entrepreneurial journey.
John has a great format that will cover how I got started, a great failure in my work, and the "aha moment" when I realized what would bring me joy and success at the same time.
Please check out the show notes and consider subscribing to this great show.