David C Cook publishers announces the release of it's latest new leadership book:?The Top Ten Ways to Be A Great Leader, by Dr. Hans Finzel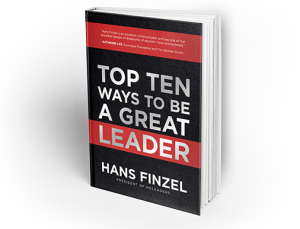 Colorado Springs, CO, April 1, 2017: Today David C Cook has released the 10th book by leadership expert Dr. Hans Finzel.
After 30 years in the trenches of leadership, best selling author and leadership expert Dr. Finzel decided to ask the question, "What are the most important skills every new leader should master?" He came up with an acrostic for the word LEADERSHIP. Each chapter of this book, 10 chapters in all, outlines an essential skill every leader must master. Hans? bestseller, "Top 10 Mistakes Leaders Make" is about pitfalls to avoid. This follow up book is about essential skills every leader needs to be successful.
1. ?L? Is for Listen and Learn
2. ?E? Is for Emotional Intelligence
3. ?A? Is for Accessibility
5. ?E? Is for Effective Communication
6. ?R? Is for Resilience

7. ?S? Is for Servant Attitude
8. ?H? Is for Hands Off Delegation
9. ?I? Is for Integrity
10. ?P? Is for the Power of Humility
Dr. Hans Finzel is a successful author, speaker and trusted authority in the field of leadership. For 20 years he served as President of international non-profit WorldVenture, working in over 65 countries. Hans speaks, writes and teaches on practical leadership principles from the real world?not just the classroom. His bestseller is The Top Ten Mistakes Leaders Make(David C Cook). Hans has trained leaders on five continents and his books have been translated into over twenty foreign languages. Today he serves as President of HDLeaders and teaches and speaks globally on all things leadership.
Available in hardback and eBook wherever books are sold